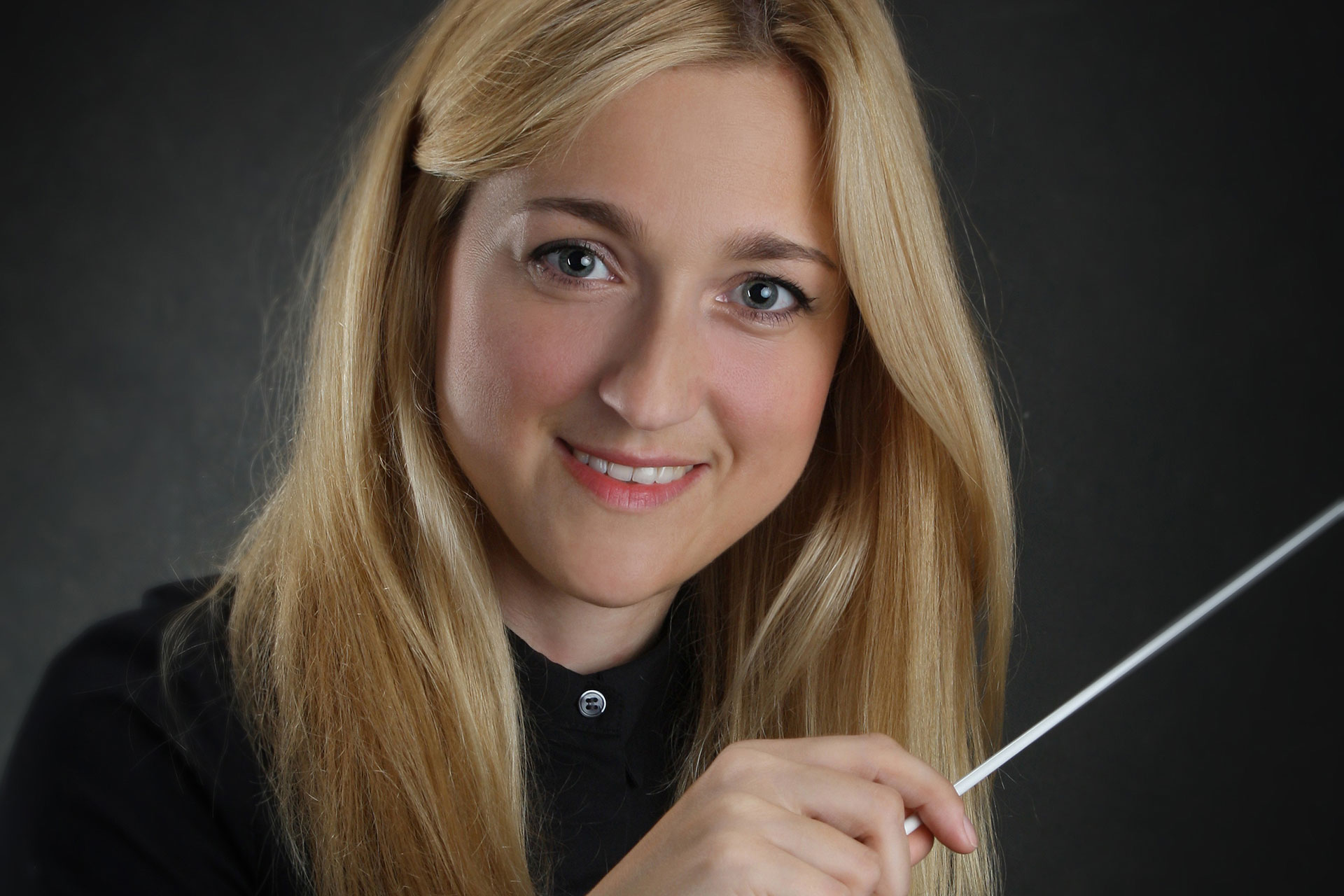 Joanna Natalia Ślusarczyk - conductor
Conductor-in-Residence at the Silesian Philharmonic in Katowice in the 2018-2019 season. The winner of the Second Prize in the International Conducting Competition "Jeunesses Musicales Bucharest" in Romania (August 2018). The winner of the Third Prize at the "First European Union International Conducting Competition" in Sofia/Pazardzik, Bulgaria (January 2018). In April 2018, she won the First Prize at the "London Classical Soloists Conducting Competition" in Great Britain. She was also awarded a Special Mention at "The BMW International Conducting Masterclass and Competition" in Portugal (April 2018).
In April 2019 she won international auditions with Óbudai Danubia Zenekar/Danubia Orchestra Óbuda and was selected to the Mentoring Program with Peter Eötvös for 2020/2021 organised by Peter Eötvös Contemporary Music Foundation in Budapest, Hungary.
Majoring in Symphonic and Opera Conducting in the class of maestro Mirosław Jacek Błaszczyk, graduated with honors from the Academy of Music in Katowice, where she is currently working on her D.M.A. She also graduated with honors from the Academy of Music in Krakow.
Joanna Natalia Ślusarczyk has conducted in both Poland and in the and United States, Russia, Israel, Norway, Iceland, Portugal, France, Great Britain, Bulgaria, Romania, and Ukraine.
She worked with such orchestras as: the Silesian Philharmonic Orchestra, the Krakow Philharmonic Orchestra, the Zielona Góra Philharmonic Orchestra, the Bucharest Philharmonic Orchestra, the Filarmonica Moldova IASI, the London Classical Soloists Orchestra, the Pazardzik Symphony Orchestra, the Orquestra da Costa Atlantica, the International Symphony Orchestra ICM, the Beethoven Academy Orchestra, the Royal Symphony Orchestra, the Żorska Chamber Orchestra. She also co-operated with the Podlasie Opera and Philharmonic in Białystok. She is the founder and principal conductor of the Małopolska Chamber Orchestra. In 2014 she recorded the album "Seeking Inspiration – Polish Music. Chopin – Lutosławski – Górecki – Kilar" with the Cracow Youth Chamber Orchestra, of which she is also a founder.
Joanna Natalia Ślusarczyk is a finalist of three International Conducting Masterclasses, led by maestro Tadeusz Strugała (2012, Krakow), Gabriel Chmura (2013, Krakow), and the artistic director of the National Philharmonic in Poland, Jacek Kaspszyk (2013, Krakow/Lusławice). She was also selected to participate in the International Conducting Masterclasses led by maestro Colin Metters in London, Achim Holub in London, and Luis Clemente in Portugal.
For her artistic achievements she received scholarships from the Minister of Culture and National Heritage, the Royal Capital City of Krakow, and the Malopolska Scholarship Foundation Sapere Auso.